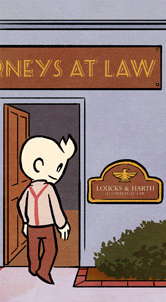 Loucks & Harth is a law firm located in the town of Broodhollow, at 18 Morrow Boulevard. Horace Bellweather was a junior partner at the firm before his untimely death, and his daughter, Iris Bellweather, works there as a clerical assistant. The status of the firm's two senior partners, presumably Loucks and Harth, is currently unknown; although Iris apparently believes the two are away on business, she believed her father was away on the same business trip, only to later recall that she'd found her father dead a month earlier.
The Zane account
Edit

Loucks & Harth served as executors of the estate of Virgil Zane, and apparently went to great lengths to track down his next of kin, Wadsworth Zane, after his passing. Although a letter Virgil had left amongst his effects named Wadsworth as the intended recipient of his antiques shop, Zane's Antiques & Antiquities, his actual will only generally named his next of kin as his heir, making an exhaustive search for Wadsworth necessary. Wadsworth's ownership of Zane's Antiques & Antiquities has yet to be made official, as Horace Bellweather is dead and the senior partners of Loucks & Harth are missing.
Ad blocker interference detected!
Wikia is a free-to-use site that makes money from advertising. We have a modified experience for viewers using ad blockers

Wikia is not accessible if you've made further modifications. Remove the custom ad blocker rule(s) and the page will load as expected.